Meet Our Outstanding CrossFit Coaches
Gabriel Sandoval
CrossFit MOB Owner. NF Barbell Club Founder/Owner
Head Coach, CrossFit and NF Barbell Academy
CrossFit Level 1, CrossFit Level 2 • USAW Sports Performance Certification, USAW Advanced Sports Performance Certification, CrossFit Football/power Athlete certification, Outlaw Barbell Camp Completion,
CrossFit Gymnastics Certification • Outlaw Way Parabellum camp completion
I'm a born and raised Colorado native. I love being athletic and doing things outdoors. I don't really remember a time when I haven't been involved in sports or athletics.
When I was six I joined a wrestling league. From elementary to high school I wrestled, played football and basketball. Around the age of 11 I found skateboarding and snowboarding. To this day I still skateboard and if you asked me what my favorite activity/hobby is I would say snowboarding without hesitation.
When I was 24, I had been exercising religiously for over two years. I had always been into exercise and weight lifting but not at the dedication level I was at when I was 24. I thought I was in "amazing" shape and I wasn't afraid to tell people so. My sister challenged me to do a CrossFit competition because I thought I was in such good shape. With a month to train for the comp with no prior CrossFit experience, I was quickly humbled. I had never been pushed quite like I was doing CrossFit. It was almost defeating but I'm the type of person who loves a challenge so I dedicated myself to it and soon thereafter fell in love with CrossFit.
I've been crossfitting for almost 8 years now. I love the sport of fitness but I think I might love coaching it a little more. There is no greater feeling than contributing to helping others reach their fitness goals or goals in general. In CrossFit, I love the workouts Grace and Diane. My favorite lift is the snatch. I hate the workout Fran and Turkish getups.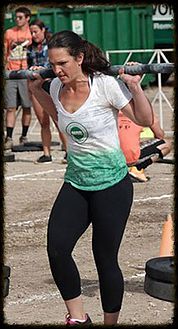 Johanne Snavely (Yo)
 Coach
CrossFit Level 1, CrossFit Level 2
Competition experience:
Placed 1st, Pro Team MBS Turkey Challenge 2013
Placed 13th, Regionals competitor 2013
Placed 4th, Winter WOD Fest 2012
Placed 4th, Regionals team competitor 2010, 2011
Placed 3rd, Fittest Games open division
Placed 1st, partner Winter Open
Placed 26th, CO open 2010
I've played sports pretty much my whole life, I had always been pretty active until the time in life came where I was consumed by work and everything else. I knew that I needed something, I just couldn't figure out what it was. Dave (the other owner/trainer) had been trying to convince me to try CrossFit insisting that I would love it. It took a while but I finally tried it. I couldn't even finish my first workout, but I had to get more. I signed up right away knowing that I needed something that had structure and would push me. I never knew what joining CrossFit would mean for my life. It changed everything; I started to gain more confidence, more self-esteem, and more understanding of my self and my abilities. So many of those things were not even just in the gym. CrossFit had definitely touched all parts of my life.It wasn't long after my first competition that I realized that I really loved this and was addicted. It was like a drug. Soon after I became so passionate about what it had done for me I wanted to make sure that others had the same opportunity to change their lives.
---
Kevin Garcia
Coach
CrossFit Level 1 2013 • Mobility Certification 2014
Competition experience:
Placed 1st, Cops Fighting Cancer 2012
Placed 2nd, Warrior Fit 2012
2 Triathlons
Once Bowled a 200 Game Dressed Like a Ghostbuster
I've always been a fiercely competitive person, which won't come as a shock to those who have met me for more than 10 minutes. Whether it was sports growing up, my career, even card games with my wife! This competitiveness fueled me even after my sports career ended and led me to doing city league sports, running races and triathlons, which were rewarding but not exactly what I was looking for.
I was introduced to Crossfit in 2011 by my brother and spent many hours watching clips on YouTube before seeing the Crossfit Games on ESPN. I was intrigued and knew it was something that I could get into. At the time my options for a gym were limited so I began doing "Crossfit like" workouts with some coworkers at lunch. I was instantly hooked! I joined Crossfit MOB shortly after and have never looked back. There's nothing like Crossfit to improve both ones physical abilities but also their mental toughness! I saw the way I approached life, my job and my daily priorities change immensely after Crossfit.
I've always known that I wanted to coach sports (I helped coach baseball starting at 17) and the community of Crossfit is what led me to attaining my Level 1 certification. I am very thankful to the gym members who pushed me to begin coaching and to share my passion of Crossfit with others. I look forward to the opportunity to help others grow as athletes and the life changing effects that can have outside the gym!
---
---
CJ Lovett
Coach
CrossFit Level 1 2015
I attended Fort Hays State University and earned a bachelors degree in Political Science. While attending FHSU I was on scholarship with the football team. I was a 4 year starter at defensive back. I earned MIAA Freshman of the year, All-Conference, All-Region, and All-American honors.
Post college I played Arena football in Wichita, Kansas and Fort Collins, Colorado. I found Crossfit, or rather it found me on Black Friday 2012. I was convinced to come try a workout by a friend after he heard me complaining of watching people at a globo gym half squat and grunt doing bicep curls. Needless to say I was destroyed by the workout that morning and got instantly determined to never be beaten down that same way again. I've been addicted ever since.
I have 12 years of experience with Olympic lifting and have learned tons on the discipline, but I still have a lot to learn. In my time with Crossfit I've always been the guy giving hints and tips to less experienced lifters and thought the natural progression would be to start coaching. So here I am.
---
---
Mary Decker
Coach
CrossFit Level 1 2014 • CrossFit Gymnastics Certification 2015
Specialize in Coaching Foundations, Foundational Gymnastics and Youth Sports Performance
I played Soccer in College and have experience in a myriad of other sports including HS Championships in track, basketball and soccer, WSI certification to teach swim and have tried my hand at almost everything else competitive. I know what it takes to perform and compete at a very high level and my ultimate passion is to share that with other young athletes.
I was introduced to CrossFit by happenstance when cross-training for a Tough Mudder fundraiser. CrossFit has been a major part of my life since then. With undergrad education in exercise science, I have really strong beliefs surrounding human movement and mental and physical capacity which led me to obtaining my L1 certificate. In coming to understand what truly motivates and fulfills me I'm honored to have an opportunity to train others. I feel very fortunate everyday to be with the MOB family and enjoy everything that makes the MOB community great. Thank you for the opportunity to be a part of your life.
---
Desirae Hiatt
Coach
CrossFit Level 1 • Crossfit Mobility • Crossfit Olympic Lifting • Crossfit Football • Outlaw Parabellum Camp
BS in Business Management
I have been in the fitness industry for over 10 years and always felt like I was looking for the next best thing. I was then introduced to crossfit by a fellow trainer at 24 Hour Fitness and I can honestly say I have never looked back. It has given me the ability to not only change the way I work out, but also being able to train my clients and run a small gym on a very remote military installation with the crossfit methodology for the past 3 years. I have now moved back to Colorado and I am very excited to be a part of the Crossfit MOB coaching team. I feel blessed to have been introduced to such an amazing way to work out. It has been my passion ever since and I want to be able to share my passion with others around me. Through my coaching here I plan to take each and every members needs serious. I plan to foster a safe, effective, and FUN atmosphere for each and every person that walks in the door of Crossfit MOB!!
---